The Venue
The homepage of the Haikko Manor gives detailed information about the place in general, but here are some notes relevant for the AD2012 participants.
Lodging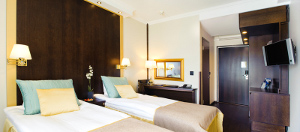 You are staying 1- or 2-person rooms depending on your choise. All rooms are in the same building with the conference room.
All rooms have a small fridge/minibar (whose content is not included in the participation fee), a writing desk, towels etc., free WLAN, and the usual. 2-person rooms have two separate beds.
All rooms, and all indoor places in general, are strictly non-smoking. There are smoking areas outside.
Dining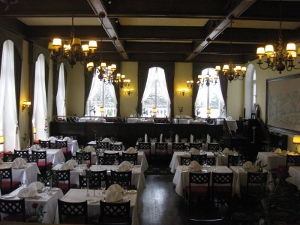 Breakfasts, lunches and the conference dinner are served at a separate building, the old Haikko Manor (in the picture to the right). For lunch and dinner the food is served at the tables, so all allergies and special diets need to be known beforehand so the waiters can bring you the right meal (by name).
The sauna dinner is served in the "living room" area in the sauna building, at a walking distance from the hotel building.
During the dinner and the sauna evening it will be possible to buy drinks at one's own expense. Consumption of own drinks is not allowed in the Haikko property due to alcohol licensing issues.
Coffee breaks
The coffee (and some pastries, fruits and other refreshments) is served continuously between 09:00 and 16:00 near the meeting room and it is included in conference package and "free of charge" all the time. The coffee buffet is shared with participants of other meetings taking place at the venue, but the hotel is coordinating the coffee breaks between the groups to avoid "rush hours".
The Haikko Spa
The use of the spa is included in the room price. The pools, saunas and the fitness area are open from 06:00 to 21:00.
Spa treatments can be booked directly from the hotel. There is a very limited number of times available so if you are interested in these, contact the reservation as soon as possible to avoid being too late. Details here.
Café, restaurants and bars
In addition to the included meals (breakfast, lunch, dinner) and the coffee buffet, food and drinks are available in the various places in the premises. The most relevant for the AD participants are: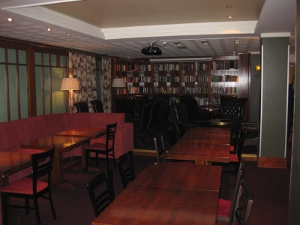 The Spa Bistro & Café in the hotel building, a cafeteria serving "mainly organic and local food, light, quick and tasty offerings. Baked potatoes, pasta, Finnish tapas-plates, Haikko Burgers, salads, pastries and snacks are available." Open until 21:00.
The Manor House Club (picture) next to the old Manor building; described as "a cozy club restaurant for after dinner drinks. A small dance floor and a good selection of whiskies." Open 21:00—02:00 and serving food until 23:00.